11th Ave Place and BluEarth Renewables
11th Place Avenue, Calgary, Alberta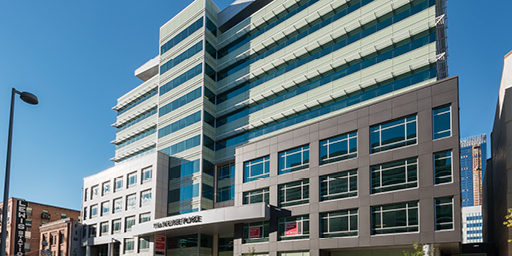 Category
Operational Excellence
Sustainability
Ownership
Institutional Clients
Managed by Morguard
Services
Property Management​​
Development Property
Management​​
Synchronizing sustainability efforts with its tenants toward the optimization of resources for common benefit, 11th Avenue Place was recognized with the Tenant Leader – Commercial Award from Healthcare of Ontario Pension Plan (HOOPP).
The Opportunity
Collaborate to strengthen the investor, property management team and tenants' joint approach to environmental sustainability. Together, BluEarth Renewables and Morguard established a unique model to help foster a positive, green workplace and an exemplary working relationship between building administrators and tenants.
The Value Proposition​
BluEarth Renewables, a tenant at the 200,000 square foot, class A office, 11-storey tower, in partnership with Morguard's property management team, implemented innovative strategies to significantly increase resource conservation at 11th Avenue Place. The strategy involved:
Establishing an open and collaborative relationship from the onset, recognizing common needs, ideas and concerns
Installing and updating equipment to encourage mindful energy consumption
Driving cultural changes toward healthier and greener alternatives with on-site fitness and shared conference facilities
Promoting environmentally-conscious transportation practices through providing electrical vehicle charging spaces and bicycle storage lockers and cages
Optimizing reduction and diversion of waste from landfill and incineration disposals
The Result
11th Avenue Place, targeted for Leadership in Energy and Environmental Design (LEED) Gold certification has become a model within the Calgary community of conscious engagement with environmental initiatives with a long-term effect. The building is a testament to Morguard's commitment to working collaboratively with investors and tenants to promote responsible energy consumption and drive a cultural shift toward environmentally-friendly alternatives in the communities it serves.