Outstanding Risk Management – Canada's Safest Employers Award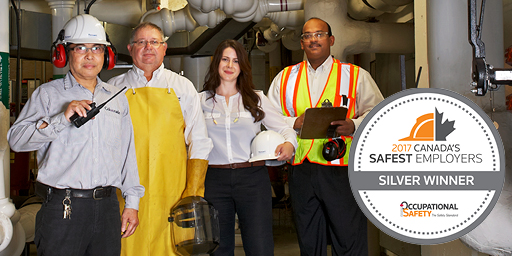 Category
Operational Excellence
Office, Industrial, Retail,
Multi-Suite Residential
Ownership
Morguard Ow​ned and
Managed Portfolio
Services
Occupational Health and
Safety
Property Management​​
Risk Management
As a result of outstanding risk management in Occupational Health and Safety (OHS), Morguard was recognized by Canadian Occupational Safety in 2017 for the fifth consecutive year as one of Canada's Safest Employers in the Retail and Services category.
The Opportunity
Drive property performance and support employee wellbeing by embedding OHS into Morguard's culture as a risk management imperative.
The Value Proposition
A unique in-house approach to designing its health and safety risk management strategy enables Morguard to meet the demands of each individual property. This is realized through:
Employee training and communication in OHS across Morguard (more than 1,000 employees completed close to 7,200 hours of training in 2016)
Centralized Occupational Health and Safety oversight within the Risk Management function and leveraging best practices across locations nationwide
Internal programs designed to allow for greater control, customization and clear lines of responsibility
Encouraging active employee and tenant participation through inclusive program planning, implementation and measurement
Identifying potential hazards and working collaboratively on solutions and risk mitigation​
Morguard senior management actively supports all Risk Management initiatives, and on any given day, 1 in 4 employees are directly engaged with the OHS programs.
The Result
In addition to keeping employees safe and healthy – which is the upmost priority – Morguard's OHS risk management strategy contributes to business continuity and liability reduction. Empowered employees sharing accountability for health and safety enable the company to maintain its reputation; keep employees and tenants safe in Morguard properties; reduce costs, liabilities and service disruptions; improve employee retention and lower rates of absenteeism.